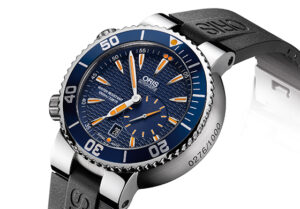 Oris is founded by Paul Cattin (right) and Georges Christian in the Swiss town of Hölstein. They buy the recently closed Lohner & Co watch factory, and on June 1, 1904 the two men enter into a contract with the local mayor. They name their new watch company Oris, after a nearby brook.
Since 1904 industrial watch making has been in our bones and craftmanship is in our souls. Our mechanical watches always conform to the Oris credo: "Things must make sense". We live for the quality of work we put into our watches. While others follow a path, we define our own. Go your own way.
Oris is one of a small handful of Swiss watch brands that makes only mechanical watches. A mechanical watch is a thing of beauty, designed according to principles that have been around for generations and will continue long into the future.
See more: www.oris.ch
https://kuldkroon.ee/kategooria/kellad/oris/
Watches are in our salon at Rävala pst. 6, Tallinn.
For certine model availabilty in our salon you can send the request to info@kuldkroon.ee